The Milagro Foundation - Making a difference in the lives of children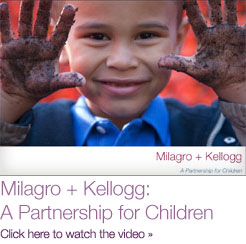 Milagro + W.K.Kellogg Foundation: A partnership for children
2009-2011
Healthy food access and nutrition education for children in underserved communities
To our friends at Kellogg, with gratitude...
"Each child's soul is the seed that contains light and love. By investing patience, compassion, kindness and gentle wisdom, each child will bear the fruit of divinity."

~ Carlos Santana
The Edible Schoolyard New Orleans, LA Edible Schoolyard New Orleans is a school garden and nutrition program at the Samuel Green Charter School in New Orleans.
Johns Hopkins Center forAmerican Indian Health School gardens and nutrition education on the White Mountain Apache Reservation and Navajo Nation in Arizona and the Santa Domingo Pueblo in New Mexico
Historic Lower 9th WardCouncil for Arts & Sustainability The Ujamaa Project at the Sankofa Marketplace introduces the children of the Lower 9th ward of New Orleans to healthy food choices.
Sausalito-Marin City Schools - GrowingGreat Marin City/Sausalito School gardens, Nutrition Education and a community Farmers Market will provide Marin City children with alternative choices for healthy food access.