The Milagro Foundation - Making a difference in the lives of children
Video & Photos
Carlos Santana and Milagro Foundation are committed to helping children prevent and overcome alcohol and substance abuse.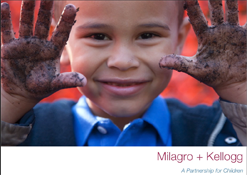 Milagro+Kellogg:A Parnership for Children
The Milagro Foundation partners with the W.K. Kellogg Foundation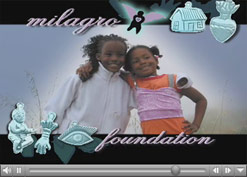 Milagro Foundation Video
Learn about the Milagro Foundation, and the message of hope it brings to children all over the world.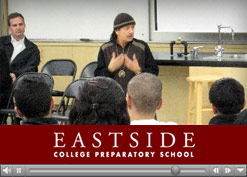 Visit from Carlos
Carlos Santana visits Eastside College Preparatory School to meet, speak with, an inspire students.




The Mosaic Project


The Mosaic Project, a 501(c)(3) nonprofit, profoundly reaches children in elementary school before prejudice can become entrenched. We unite students of diverse backgrounds in our unique human-relations outdoor school. We provide them with essential skills to thrive in an increasingly diverse society, and empower them to strive for peace.



Plushland, Los Angeles, CA


Anthony Weber, president of Plushland has generously donated hundreds of stuffed animals to Milagro grantees. Thank you Tony! Photo Credit: Nancy Farese



A Keiki's Dream


A Keiki's Dream offers "A Dream Come True" for Maui's, children in crisis.



Milagro Foundation Team


Milagro Foundation Board Members & Staff: Maria Vrionis, Marsha Bonner, Ethel Seiderman, Gabriel Buigas, Shelley Brown, Kim Baltzell, Ruthie Moutafian & Stevie Lee



UNICEF: Darfur


In spite of the ongoing violence and instability of Sudan's Darfur region, UNICEF remains committed to helping save the lives of children.



Netgain, Malawi


The NetGain Foundation is a non-profit organization working to provide insecticide treated mosquito nets (ITNs) to villages in sub-Saharan Africa.

---

« View Archive Video & Photos